About Us
Milano Pizza is a Pizza takeaway in London. Why don't you try our Pizza Napoli or Romana Pizza?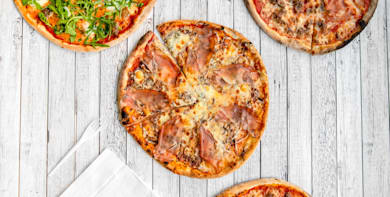 Reviews
888 reviews
Salma
"We order from here every week as they are always on time, good customer service and food is good!"
30/04/2021
Ferah
"Very good service"
13/04/2021
Nahid
"Great pizza, excellent wings, but soggy chips."
12/04/2021
Jordan
"my go to pizza shop quality of pizza is always 10/10 nice toppings and pizza dough is soft"
11/04/2021
Menu
Fillet Fish Burger - Regular
£4.50
Fillet Fish Burger - Meal
£6.50
Quarter Pounder Burger with Cheese - Regular
£4.50
Quarter Pounder Burger with Cheese - Meal
£6.50
Half Pounder Burger with Cheese - Regular
£5.99
Half Pounder Burger with Cheese - Meal
£7.99
Vegetable Burger - Regular
£4.50
Classic Chicken Steak Burger - Regular
£4.99
Classic Chicken Steak Burger - Meal
£6.99
Margherita Pizza 10" Medium
Mozzarella cheese & tomato sauce
£11.49
Margherita Pizza 12" Large
Mozzarella cheese & tomato sauce
£13.99
Margherita Pizza 15" Super
Mozzarella cheese & tomato sauce
£16.99
Margherita Pizza 18" Massive
Mozzarella cheese & tomato sauce
£18.99
Ham & Mushroom Pizza 10" Medium
£11.49
Ham & Mushroom Pizza 12" Large
£13.99
Ham & Mushroom Pizza 15" Super
£16.99
Ham & Mushroom Pizza 18" Massive
£18.99
Hawaiian Pizza 10" Medium
Turkey ham & pineapple
£11.49
Hawaiian Pizza 12" Large
Turkey ham & pineapple
£13.99
Hawaiian Pizza 15" Super
Turkey ham & pineapple
£16.99
Hawaiian Pizza 18" Massive
Turkey ham & pineapple
£18.99
Beef Eater Pizza 10" Medium
Red onions, mushrooms & spicy beef
£11.49
Beef Eater Pizza 12" Large
Red onions, mushrooms & spicy beef
£13.99
Beef Eater Pizza 15" Super
Red onions, mushrooms & spicy beef
£16.99
Beef Eater Pizza 18" Massive
Red onions, mushrooms & spicy beef
£18.99
Classic Pizza 10" Medium
Turkey bacon, mushrooms & fresh tomato
£11.49
Classic Pizza 12" Large
Turkey bacon, mushrooms & fresh tomato
£13.99
Classic Pizza 15" Super
Turkey bacon, mushrooms & fresh tomato
£16.99
Classic Pizza 18" Massive
Turkey bacon, mushrooms & fresh tomato
£18.99
Pizza Napoli 10" Medium
Capers, anchovies & mushrooms
£11.49
Pizza Napoli 12" Large
Capers, anchovies & mushrooms
£13.99
Pizza Napoli 15" Super
Capers, anchovies & mushrooms
£16.99
Pizza Napoli 18" Massive
Capers, anchovies & mushrooms
£18.99
Meatballs Pizza 10" Medium
BBQ sauce, mixed peppers, red onions & meatballs
£11.49
Meatballs Pizza 12" Large
BBQ sauce, mixed peppers, red onions & meatballs
£13.99
Meatballs Pizza 15" Super
BBQ sauce, mixed peppers, red onions & meatballs
£16.99
Meatballs Pizza 18" Massive
BBQ sauce, mixed peppers, red onions & meatballs
£18.99
BBQ Chicken Pizza 10" Medium
BBQ chicken, fresh tomato, mixed peppers, red onions & BBQ sauce
£11.49
BBQ Chicken Pizza 12" Large
BBQ chicken, fresh tomato, mixed peppers, red onions & BBQ sauce
£13.99
BBQ Chicken Pizza 15" Super
BBQ chicken, fresh tomato, mixed peppers, red onions & BBQ sauce
£16.99
BBQ Chicken Pizza 18" Massive
BBQ chicken, fresh tomato, mixed peppers, red onions & BBQ sauce
£18.99
BBQ Pizza 10" Medium
BBQ sauce, turkey ham, mushrooms, red onions & mixed peppers
£11.49
BBQ Pizza 12" Large
BBQ sauce, turkey ham, mushrooms, red onions & mixed peppers
£13.99
BBQ Pizza 15" Super
BBQ sauce, turkey ham, mushrooms, red onions & mixed peppers
£16.99
BBQ Pizza 18" Massive
BBQ sauce, turkey ham, mushrooms, red onions & mixed peppers
£18.99
Pepperoni Plus Pizza 10" Medium
Double pepperoni & double cheese
£11.49
Pepperoni Plus Pizza 12" Large
Double pepperoni & double cheese
£13.99
Pepperoni Plus Pizza 15" Super
Double pepperoni & double cheese
£16.99
Pepperoni Plus Pizza 18" Massive
Double pepperoni & double cheese
£18.99
Pepperoni Hot Pizza 10" Medium
Pepperoni, green chillies, turkey bacon & tandoori chicken
£11.49
Pepperoni Hot Pizza 12" Large
Pepperoni, green chillies, turkey bacon & tandoori chicken
£13.99
Pepperoni Hot Pizza 15" Super
Pepperoni, green chillies, turkey bacon & tandoori chicken
£16.99
Pepperoni Hot Pizza 18" Massive
Pepperoni, green chillies, turkey bacon & tandoori chicken
£18.99
Chinese Chicken Pizza 10" Medium
Chinese chicken, mushrooms, green peppers & sweetcorn
£11.49
Chinese Chicken Pizza 12" Large
Chinese chicken, mushrooms, green peppers & sweetcorn
£13.99
Chinese Chicken Pizza 15" Super
Chinese chicken, mushrooms, green peppers & sweetcorn
£16.99
Chinese Chicken Pizza 18" Massive
Chinese chicken, mushrooms, green peppers & sweetcorn
£18.99
Spicy Chicken Mix Pizza 10" Medium
Tandoori chicken, Mexican chicken, mixed peppers & jalapenos
£11.49
Spicy Chicken Mix Pizza 12" Large
Tandoori chicken, Mexican chicken, mixed peppers & jalapenos
£13.99
Spicy Chicken Mix Pizza 15" Super
Tandoori chicken, Mexican chicken, mixed peppers & jalapenos
£16.99
Spicy Chicken Mix Pizza 18" Massive
Tandoori chicken, Mexican chicken, mixed peppers & jalapenos
£18.99
Tandoori Chicken Pizza 10" Medium
Tandoori chicken, onions, mushrooms, green chillies & mixed peppers
£11.49
Tandoori Chicken Pizza 12" Large
Tandoori chicken, onions, mushrooms, green chillies & mixed peppers
£13.99
Tandoori Chicken Pizza 15" Super
Tandoori chicken, onions, mushrooms, green chillies & mixed peppers
£16.99
Tandoori Chicken Pizza 18" Massive
Tandoori chicken, onions, mushrooms, green chillies & mixed peppers
£18.99
Chicken Trio Pizza 10" Medium
BBQ chicken, Chinese chicken & plain chicken
£11.49
Chicken Trio Pizza 12" Large
BBQ chicken, Chinese chicken & plain chicken
£13.99
Chicken Trio Pizza 15" Super
BBQ chicken, Chinese chicken & plain chicken
£16.99
Chicken Trio Pizza 18" Massive
BBQ chicken, Chinese chicken & plain chicken
£18.99
Chicken Special Pizza 10" Medium
Red onions, mushrooms, tandoori chicken & mixed peppers
£11.49
Chicken Special Pizza 12" Large
Red onions, mushrooms, tandoori chicken & mixed peppers
£13.99
Chicken Special Pizza 15" Super
Red onions, mushrooms, tandoori chicken & mixed peppers
£16.99
Chicken Special Pizza 18" Massive
Red onions, mushrooms, tandoori chicken & mixed peppers
£18.99
Seafood Pizza 10" Medium
Anchovies, tuna, prawns, black olives & fresh tomato
£11.49
Seafood Pizza 12" Large
Anchovies, tuna, prawns, black olives & fresh tomato
£13.99
Seafood Pizza 15" Super
Anchovies, tuna, prawns, black olives & fresh tomato
£16.99
Seafood Pizza 18" Massive
Anchovies, tuna, prawns, black olives & fresh tomato
£18.99
Vegetarian Pizza 10" Medium
Red onions, mushrooms, mixed peppers & sweetcorn
£11.49
Vegetarian Pizza 12" Large
Red onions, mushrooms, mixed peppers & sweetcorn
£13.99
Vegetarian Pizza 15" Super
Red onions, mushrooms, mixed peppers & sweetcorn
£16.99
Vegetarian Pizza 18" Massive
Red onions, mushrooms, mixed peppers & sweetcorn
£18.99
Vegetarian Hot Pizza 10" Medium
Red onions, mixed peppers, mushrooms & jalapeno chillies
£11.49
Vegetarian Hot Pizza 12" Large
Red onions, mixed peppers, mushrooms & jalapeno chillies
£13.99
Vegetarian Hot Pizza 15" Super
Red onions, mixed peppers, mushrooms & jalapeno chillies
£16.99
Vegetarian Hot Pizza 18" Massive
Red onions, mixed peppers, mushrooms & jalapeno chillies
£18.99
Vegetarian Deluxe Pizza 10" Medium
Red onions, spinach, fresh tomatoes & black olives
£11.49
Vegetarian Deluxe Pizza 12" Large
Red onions, spinach, fresh tomatoes & black olives
£13.99
Vegetarian Deluxe Pizza 15" Super
Red onions, spinach, fresh tomatoes & black olives
£16.99
Vegetarian Deluxe Pizza 18" Massive
Red onions, spinach, fresh tomatoes & black olives
£18.99
Vegetarian Classic Pizza 10" Medium
Onions, mushrooms, mixed pepper, fresh tomatoes & asparagus
£11.49
Vegetarian Classic Pizza 12" Large
Onions, mushrooms, mixed pepper, fresh tomatoes & asparagus
£13.99
Vegetarian Classic Pizza 15" Super
Onions, mushrooms, mixed pepper, fresh tomatoes & asparagus
£16.99
Vegetarian Classic Pizza 18" Massive
Onions, mushrooms, mixed pepper, fresh tomatoes & asparagus
£18.99
Mexican Hot Pizza 10" Medium
Pepperoni, beef, onions, mixed peppers, Mexican chicken & jalapenos
£11.49
Mexican Hot Pizza 12" Large
Pepperoni, beef, onions, mixed peppers, Mexican chicken & jalapenos
£13.99
Mexican Hot Pizza 15" Super
Pepperoni, beef, onions, mixed peppers, Mexican chicken & jalapenos
£16.99
Mexican Hot Pizza 18" Massive
Pepperoni, beef, onions, mixed peppers, Mexican chicken & jalapenos
£18.99
Amigo Pizza 10" Medium
Mixed peppers, onions, fresh chilli, spicy beef & pepperoni
£11.49
Amigo Pizza 12" Large
Mixed peppers, onions, fresh chilli, spicy beef & pepperoni
£13.99
Amigo Pizza 15" Super
Mixed peppers, onions, fresh chilli, spicy beef & pepperoni
£16.99
Amigo Pizza 18" Massive
Mixed peppers, onions, fresh chilli, spicy beef & pepperoni
£18.99
American Hot Pizza 10" Medium
Pepperoni, jalapeno peppers, onions & mixed peppers
£11.49
American Hot Pizza 12" Large
Pepperoni, jalapeno peppers, onions & mixed peppers
£13.99
American Hot Pizza 15" Super
Pepperoni, jalapeno peppers, onions & mixed peppers
£16.99
American Hot Pizza 18" Massive
Pepperoni, jalapeno peppers, onions & mixed peppers
£18.99
Indiano Pizza 10" Medium
Tandoori chicken, chillies, onions & fresh tomatoes
£11.49
Indiano Pizza 12" Large
Tandoori chicken, chillies, onions & fresh tomatoes
£13.99
Indiano Pizza 15" Super
Tandoori chicken, chillies, onions & fresh tomatoes
£16.99
Indiano Pizza 18" Massive
Tandoori chicken, chillies, onions & fresh tomatoes
£18.99
Donner Pizza 10" Medium
Donner meat, mushrooms, onions & green peppers
£11.49
Donner Pizza 12" Large
Donner meat, mushrooms, onions & green peppers
£13.99
Donner Pizza 15" Super
Donner meat, mushrooms, onions & green peppers
£16.99
Donner Pizza 18" Massive
Donner meat, mushrooms, onions & green peppers
£18.99
Meat Feast Pizza 10" Medium
Pepperoni, salami, beef & turkey ham
£11.49
Meat Feast Pizza 12" Large
Pepperoni, salami, beef & turkey ham
£13.99
Meat Feast Pizza 15" Super
Pepperoni, salami, beef & turkey ham
£16.99
Meat Feast Pizza 18" Massive
Pepperoni, salami, beef & turkey ham
£18.99
Chef's Special Pizza 10" Medium
Turkey ham, pepperoni, spicy beef, mushrooms, mixed pepper & red onion
£11.49
Chef's Special Pizza 12" Large
Turkey ham, pepperoni, spicy beef, mushrooms, mixed pepper & red onion
£13.99
Chef's Special Pizza 15" Super
Turkey ham, pepperoni, spicy beef, mushrooms, mixed pepper & red onion
£16.99
Chef's Special Pizza 18" Massive
Turkey ham, pepperoni, spicy beef, mushrooms, mixed pepper & red onion
£18.99
Sweet Delight Pizza 10" Medium
Turkey ham, mushrooms, pineapple & sweetcorn
£11.49
Sweet Delight Pizza 12" Large
Turkey ham, mushrooms, pineapple & sweetcorn
£13.99
Sweet Delight Pizza 15" Super
Turkey ham, mushrooms, pineapple & sweetcorn
£16.99
Sweet Delight Pizza 18" Massive
Turkey ham, mushrooms, pineapple & sweetcorn
£18.99
Romana Pizza 10" Medium
Fresh tomato, mozzarella, black olives, anchovies & oregano
£11.49
Romana Pizza 12" Large
Fresh tomato, mozzarella, black olives, anchovies & oregano
£13.99
Romana Pizza 15" Super
Fresh tomato, mozzarella, black olives, anchovies & oregano
£16.99
Romana Pizza 18" Massive
Fresh tomato, mozzarella, black olives, anchovies & oregano
£18.99
Siciliana Pizza 10" Medium
Fresh tomato, mozzarella, anchovies, capers & oregano
£11.49
Siciliana Pizza 12" Large
Fresh tomato, mozzarella, anchovies, capers & oregano
£13.99
Siciliana Pizza 15" Super
Fresh tomato, mozzarella, anchovies, capers & oregano
£16.99
Siciliana Pizza 18" Massive
Fresh tomato, mozzarella, anchovies, capers & oregano
£18.99
Verdue Pizza 10" Medium
Fresh tomato, mozzarella, grilled aubergines, grilled courgette, black olives, oregano & garlic
£11.49
Verdue Pizza 12" Large
Fresh tomato, mozzarella, grilled aubergines, grilled courgette, black olives, oregano & garlic
£13.99
Verdue Pizza 15" Super
Fresh tomato, mozzarella, grilled aubergines, grilled courgette, black olives, oregano & garlic
£16.99
Verdue Pizza 18" Massive
Fresh tomato, mozzarella, grilled aubergines, grilled courgette, black olives, oregano & garlic
£18.99
Tonno Pizza 10" Medium
Fresh tomato, mozzarella, tuna, onions, black olives & oregano
£11.49
Tonno Pizza 12" Large
Fresh tomato, mozzarella, tuna, onions, black olives & oregano
£13.99
Tonno Pizza 15" Super
Fresh tomato, mozzarella, tuna, onions, black olives & oregano
£16.99
Tonno Pizza 18" Massive
Fresh tomato, mozzarella, tuna, onions, black olives & oregano
£18.99
Make Your Own Pizza 10" Medium
With 4 toppings of your choice
£11.49
Make Your Own Pizza 12" Large
With 4 toppings of your choice
£13.99
Make Your Own Pizza 15" Super
With 4 toppings of your choice
£16.99
Make Your Own Pizza 18" Massive
With 4 toppings of your choice
£18.99
Half & Half Pizza 10" Medium
£12.49
Half & Half Pizza 12" Large
£15.49
Half & Half Pizza 15" Super
£18.99
Half & Half Pizza 18" Massive
£21.29
Margherita Pizza 7" Small
Mozzarella cheese & tomato sauce
£5.99
Ham & Mushroom Pizza 7" Small
£5.99
Hawaiian Pizza 7" Small
Turkey ham & pineapple
£5.99
Beef Eater Pizza 7" Small
Red onions, mushrooms & spicy beef
£5.99
Classic Pizza 7" Small
Turkey bacon, mushrooms & fresh tomato
£5.99
Pizza Napoli 7" Small
Capers, anchovies & mushrooms
£5.99
Meatballs Pizza 7" Small
BBQ sauce, mixed peppers, red onions & meatballs
£5.99
BBQ Chicken Pizza 7" Small
BBQ chicken, fresh tomato, mixed peppers, red onions & BBQ sauce
£5.99
BBQ Pizza 7" Small
BBQ sauce, turkey ham, mushrooms, red onions & mixed peppers
£5.99
Pepperoni Plus Pizza 7" Small
Double pepperoni & double cheese
£5.99
Pepperoni Hot Pizza 7" Small
Pepperoni, green chillies, turkey bacon & tandoori chicken
£5.99
Chinese Chicken Pizza 7" Small
Chinese chicken, mushrooms, green peppers & sweetcorn
£5.99
Spicy Chicken Mix Pizza 7" Small
Tandoori chicken, Mexican chicken, mixed peppers & jalapenos
£5.99
Tandoori Chicken Pizza 7" Small
Tandoori chicken, onions, mushrooms, green chillies & mixed peppers
£5.99
Chicken Trio Pizza 7" Small
BBQ chicken, Chinese chicken & plain chicken
£5.99
Chicken Special Pizza 7" Small
Red onions, mushrooms, tandoori chicken & mixed peppers
£5.99
Seafood Pizza 7" Small
Anchovies, tuna, prawns, black olives & fresh tomato
£5.99
Vegetarian Pizza 7" Small
Red onions, mushrooms, mixed peppers & sweetcorn
£5.99
Vegetarian Hot Pizza 7" Small
Red onions, mixed peppers, mushrooms & jalapeno chillies
£5.99
Vegetarian Deluxe Pizza 7" Small
Red onions, spinach, fresh tomatoes & black olives
£5.99
Vegetarian Classic Pizza 7" Small
Onions, mushrooms, mixed pepper, fresh tomatoes & asparagus
£5.99
Mexican Hot Pizza 7" Small
Pepperoni, beef, onions, mixed peppers, Mexican chicken & jalapenos
£5.99
Amigo Pizza 7" Small
Mixed peppers, onions, fresh chilli, spicy beef & pepperoni
£5.99
American Hot Pizza 7" Small
Pepperoni, jalapeno peppers, onions & mixed peppers
£5.99
Indiano Pizza 7" Small
Tandoori chicken, chillies, onions & fresh tomatoes
£5.99
Donner Pizza 7" Small
Donner meat, mushrooms, onions & green peppers
£5.99
Meat Feast Pizza 7" Small
Pepperoni, salami, beef & turkey ham
£5.99
Chef's Special Pizza 7" Small
Turkey ham, pepperoni, spicy beef, mushrooms, mixed pepper & red onion
£5.99
Sweet Delight Pizza 7" Small
Turkey ham, mushrooms, pineapple & sweetcorn
£5.99
Romana Pizza 7" Small
Fresh tomato, mozzarella, black olives, anchovies & oregano
£5.99
Siciliana Pizza 7" Small
Fresh tomato, mozzarella, anchovies, capers & oregano
£5.99
Verdue Pizza 7" Small
Fresh tomato, mozzarella, grilled aubergines, grilled courgette, black olives, oregano & garlic
£5.99
Tonno Pizza 7" Small
Fresh tomato, mozzarella, tuna, onions, black olives & oregano
£5.99
Make Your Own Pizza 7" Small
With 4 toppings of your choice
£5.99
Half & Half Pizza 7" Small
£5.99
Chicken Donner Pizza 7" Small
Toppings
Chicken donner, red onions, fresh tomatoes, mushrooms
£5.99
Chicken Donner Pizza 10" Medium
Toppings
Chicken donner, red onions, fresh tomatoes, mushrooms
£11.49
Chicken Donner Pizza 12" Large
Toppings
Chicken donner, red onions, fresh tomatoes, mushrooms
£13.99
Chicken Donner Pizza 15" Super
Toppings
Chicken donner, red onions, fresh tomatoes, mushrooms
£16.99
Chicken Donner Pizza 18" Massive
Toppings
Chicken donner, red onions, fresh tomatoes, mushrooms
£18.99
Quarter Peri Peri Chicken
£4.50
Half Peri Peri Chicken Regular
£6.99
Whole Peri Peri Chicken Regular
£10.99
Half Peri Peri Chicken With Rice
£9.99
Half Peri Peri Chicken With Chips
£8.99
Whole Peri Peri Chicken With Rice
£13.99
Whole Peri Peri Chicken With Chips
£12.99
Mexican Chicken - Topping
Jalapeno Peppers - Topping
Margherita - 12" Stuffed Crust
Ham & Mushroom - 12" Stuffed Crust
Hawaiian - 12" Stuffed Crust
Beef Eater - 12" Stuffed Crust
Classic - 12" Stuffed Crust
Pizza Napoli - 12" Stuffed Crust
Meatballs 12" Stuffed Crust
BBQ Chicken 12" Stuffed Crust
Pepperoni Plus - 12" Stuffed Crust
Pepperoni Hot - 12" Stuffed Crust
Chinese Chicken 12" Stuffed Crust
Spicy Chicken Mix - 12" Stuffed Crust
Tandoori Chicken 12" Stuffed Crust
Chicken Trio - 12" Stuffed Crust
Chicken Special - 12" Stuffed Crust
Seafood - 12" Stuffed Crust
Vegetarian - 12" Stuffed Crust
Vegetarian Hot - 12" Stuffed Crust
Vegetarian Deluxe - 12" Stuffed Crust
Vegetarian Classic - 12" Stuffed Crust
Mexican Hot - 12" Stuffed Crust
Amigo - 12" Stuffed Crust
American Hot - 12" Stuffed Crust
Indiano - 12" Stuffed Crust
Donner - 12" Stuffed Crust
Meat Feast - 12" Stuffed Crust
Chef's Special - 12" Stuffed Crust
Sweet Delight - 12" Stuffed Crust
Romana - 12" Stuffed Crust
Siciliana - 12" Stuffed Crust
Verdue - 12" Stuffed Crust
Tonno - 12" Stuffed Crust
BBQ Chicken Wings 4 Pieces
BBQ Chicken Wings 6 Pieces
Jalapeno Cream Cheese (2)
Jalapeno Cream Cheese (3)
Breaded Mozzarella Sticks (3)
Chicken Strips (3) & Potato Spiral
1st Half Pizza Margherita
1st Half Pizza Ham & Mushroom
1st Half Pizza Beef Eater
1st Half Pizza BBQ Chicken
1st Half Pizza Pepperoni Plus
1st Half Pizza Pepperoni Hot
1st Half Pizza Chinese Chicken
1st Half Pizza Spicy Chicken Mix
1st Half Pizza Tandoori Chicken
1st Half Pizza Chicken Trio
1st Half Pizza Chicken Special
1st Half Pizza Vegetarian
1st Half Pizza Vegetarian Hot
1st Half Pizza Vegetarian Deluxe
1st Half Pizza Vegetarian Classic
1st Half Pizza Mexican Hot
1st Half Pizza American Hot
1st Half Pizza Meat Feast
1st Half Pizza Chef's Special
1st Half Pizza Sweet Delight
2nd Half Pizza Margherita
2nd Half Pizza Ham & Mushroom
2nd Half Pizza Beef Eater
2nd Half Pizza BBQ Chicken
2nd Half Pizza Pepperoni Plus
2nd Half Pizza Pepperoni Hot
2nd Half Pizza Chinese Chicken
2nd Half Pizza Spicy Chicken Mix
2nd Half Pizza Tandoori Chicken
2nd Half Pizza Chicken Trio
2nd Half Pizza Chicken Special
2nd Half Pizza Vegetarian
2nd Half Pizza Vegetarian Hot
2nd Half Pizza Vegetarian Deluxe
2nd Half Pizza Vegetarian Classic
2nd Half Pizza Mexican Hot
2nd Half Pizza American Hot
2nd Half Pizza Meat Feast
2nd Half Pizza Chef's Special
2nd Half Pizza Sweet Delight
Extra Ben & Jerry's Options
Chicken Donner Pizza - 12" Stuffed Crust
Feisty Fiesta
Loaded chips with juicy ground beef, jalapenos, sweetcorn, tomatoes smothered in creamy melted mozzarella & salsa sauce
£8.99
Mediterranean Medley
Loaded chips with tender lamb, tomatoes, red onions, olives & lettuce & mozzarella cheese
£8.99
Jamaican Jerk Jam
Loaded chips with delicious chicken feast with fresh tomatoes, lettuce, topped with creamy cheddar & creamy garlic mayo
£8.99
Zesty Garlic Ranch Rodeo
Loaded chips with ground beef, lettuce, tomatoes come & onion topped with garlic
£8.99
The Rise & Shine
Loaded chips with ground beef with tomatoes & onion topped with cheddar
£8.99
Haagen Dazs Ice Cream (500ml) Pralines & Cream
£7.99
Haagen Dazs Ice Cream (500ml) Cookies & Cream
£7.99
Haagen Dazs Ice Cream (500ml) Strawberry Cheesecake
£7.99
Haagen Dazs Ice Cream (500ml) Belgian Chocolate
£7.99
Haagen Dazs Ice Cream (500ml) Vanilla
£7.99
Profiteroles with Chocolate Sauce (10 Pieces)
£3.50
Mini Doughnuts (10 Pieces)
£3.50
Potato Skins with Cheese (5 Pieces)
£6.99
Jalapeno Peppers & Cream Cheese (6 Pieces)
£4.50
Breaded Mozzarella Sticks (6 Pieces)
£4.50
Garlic Mushrooms (10 Pieces)
£4.50
Chicken Popcorn (12 Pieces)
£3.99
Chicken Strips (6 Pieces)
£4.50
Chicken Dippers (6 Pieces)
£4.50
Chicken Nuggets (8 Pieces)
£3.99
Chicken Combo
Potato wedges & 5 pieces chicken strips
£7.99
Hot & Spicy Wings (6 Pieces)
£4.50
Hash Browns (5 Pieces)
Ingredients: Potatoes, Sunflower Oil, Dehydrated Potato, Salt, Potato Starch, Flavourings, Spices
£3.99
Stuffed Chicken Breast
Served with kiev sauce (garlic butter, herbs & chips)
£6.99
Nachos
Tortilla chips topped with salsa sauce, mozzarella & jalapenos
£3.99
Nachos with Beef
Tortilla chips topped with salsa sauce, mozzarella & jalapeno
£4.99
Nachos with Chicken
Tortilla chips topped with salsa sauce, mozzarella & jalapeno
£4.99
Fresh Masala fish with Chips
£9.50
Fresh Masala Fish with Plain Rice
£10.50
Red Bull Energy Drink - 250ml
£1.99
Cheesy Chips Pizza 10" 6 slices
£12.50
Cheesy Chips Pizza 12" 8 slices
£15.50
Cheesy Chips Pizza 15" 10 slices
£17.99
Cheesy Chips Pizza 18" 12 slices
£20.50
Jumbo Platter
3 Pieces of jalapeno cream cheese
6 Pieces of onion rings
3 Pieces of breaded mozzarella sticks
3 Pieces chicken nuggets
3 Chicken strips + potato spiral + mixed salad
Served with a choice of 3 dips
£14.49
Meal For 1
Any medium pizza
BBQ wings (4 pieces)
4 Pieces garlic bread
1 Can of soft drink
£17.49
Meal For 2
Any large pizza
BBQ wings (6 pieces)
4 Pieces garlic bread
1 Bottle of soft drink
£22.49
Meal For 3
Any super pizza
BBQ wings (6 pieces)
4 Pieces garlic bread
1 Bottle of soft drink
£24.49
Meal For 4
Any massive pizza
BBQ wings (6 pieces)
10 Pieces onion rings
1 Bottle of soft drink
£25.49
Milano Special 1
2 Medium pizzas
BBQ wings (6 pieces)
4 Pieces garlic bread
1 Bottle of soft drink
£27.49
Milano Special 2
Any 2 large pizzas
4 Pieces garlic bread
BBQ wings (6 pieces)
1 Bottle of soft drink
£32.49
Milano Special 3
Any 2 super pizzas
BBQ wings (6 pieces)
4 Pieces garlic bread
1 Bottle of soft drink
£36.49
Milano Special 4
Any 2 massive pizzas
10 Pieces onion rings
BBQ wings (6 pieces)
1 Bottle of soft drink
£39.99
Ice Cream Lover
1 Large pizza
BBQ wings (6 pieces)
4 Pieces garlic bread
Haagen Dazs ice cream (500ml)
£25.99
Combo Pizza Meal
Any large pizza
Jalapeno cream cheese (2 pieces)
Bread mozzarella (2 pieces)
Chicken nuggets (4 pieces)
Bottle of drink
£19.99
Premier League Meal
1 Super pizza
1 Medium pizza
6 BBQ wings
4 Garlic bread
1.5L bottle of drink
£35.99
Party Time
Any super pizza
6 BBQ wings
4 Pieces garlic bread
1 Portion of chips
1.5L bottle of drink
£27.49
Holiday's Time
Any massive pizza
6 BBQ wings
4 Pieces garlic bread
10 Pieces onion rings
1.5L bottle of drink
£30.99
Stuffed Crust Meal
Stuffed crust large pizza
4 Pieces garlic bread
6 Pieces bbq wings
1 Bottle of drink
£23.99
2's Special Any 2 Medium Pizzas
£20.99
2's Special Any 2 Large Pizzas
£26.99
2's Special Any 2 Super Pizzas
£30.99
2's Special Any 2 Massive Pizzas
£34.99
3's Special Any 3 Medium Pizzas
£31.99
3's Special Any 3 Large Pizzas
£39.99
3's Special Any 3 Super Pizzas
£46.99
3's Special Any 3 Massive Pizzas
£52.99
Mixed Salad
Cucumber, lettuce & fresh tomato
£2.99
Greek Salad
Cucumber, onions, fresh tomato, lettuce, feta cheese & olive oil
£3.50
Supreme Salad
Cucumber, onions, fresh tomato, lettuce, mixed peppers & sweetcorn
£3.50
Prawn Cocktail
Mixed salad, prawns with burger sauce
£3.99
Ben & Jerry's Ice Cream (500ml) Caramel Chew Chew
£7.99
Ben & Jerry's Ice Cream (500ml) Chocolate Fudge Brownie
£7.99
Ben & Jerry's Ice Cream (500ml) Cookie Dough
£7.99
Ben & Jerry's Ice Cream (500ml) Phish Food
£7.99
Contact Us
Find Us
8 Grove Road, London, E35AX
We deliver to
E1, E13, E14, E15, E16, E1W, E2, E20, E3, E7, E8, E9